What is being said about us?

Othello Review from SGVN Cheers! Magazine, Thursday, March 11, 1999

A modern 'Othello' on stage in Pasadena
By Frances Baum Nicholson

With the unexpectedly wild success of the charming "Shakespeare in Love," the Bard of Avon Is enjoying somewhat of a renaissance.

It's fashionable to want to see his play, and productions of these classic works are all over Los Angeles area.

If you truly wish to see Shakespearean plays done with polish and grace, stick to those theatrical companies whose reputations have been built on his work. For example, take a look at the Pasadena Shakespeare Company's splendid new production of "Othello." Adventurous and accessible, it accomplishes what only those truly comfortable with the language and form can do: keep the rich characters and language, yet translate the play into a living thing rather than a period piece.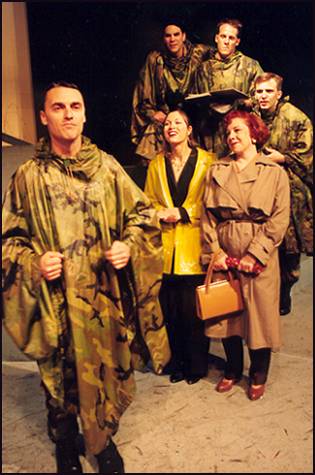 Othello
Photo: Jerry Neill
One of the most delightful elements of top quality Shakespearean productions is a willingness to leave the original time period and setting behind. This "Othello" is no exception, as director Scott Rabinowitz shifts the story of a mercenary general and the jealous junior officer determined to destroy him out of the Elizabethan Mediterranean and into the U.S. Marines. With the one switch, the whole story becomes universal, from the racist reaction of Othello's father-in-law, to issues of trust, loyalty, and the tendency of man to believe salacious rumors.

In this endeavor, Rabinowitz is aided by a remarkably strong cast. This is another mark of familiarity in a Shakespearean company; people who can speak Elizabethan English as if it were common language, not antique iambic pentameter.

As the consummately evil Iago, one of Shakespeare's most transparent villains, Loren Bass manages a steely fury, which motivates the entire play. Balanced against him, Kenneth R. Merckx Jr.'s innocently enthusiastic Cassio provides a gentle counterpoint. Joe Jordan hands in the play's few comic moments as a love struck young man Iago lures into several of his schemes.

In the somewhat thankless part of Desdemona, Amy Raasch finds a woman of considerable bravery, even as she approaches her undeserved fate. Even more remarkably, Gillian Bagwell turns Iago's wife and Desdemona's defender, Emilia, into a great deal more than the plot device she usually seems.

Yet, it is Billy Mayo, as the Moorish general himself, who must carry the piece. Though his diction sometimes lags behind that of the rest of this remarkable cast, he finds both the tenderness and the command inside this brilliant general brought to unreasoning foolishness by love and evil.

In truth, the most wonderful thing about this production, other than its internal quality, is the chance for people to see an inexpensive but high quality version of a play most people only know from having had to study it in school. To see the thing live, and seem fresh and new besides, goes a long way toward creating a new appreciation of Shakespearean drama itself.

And that is as worthy an endeavor as I can think.

Frances Baum Nicholson's theatre column, Stagestruck, is published Fridays in this newspaper's Cheers! magazine