What is being said about us?

Othello Review from the Los Angeles Times, Friday, March 19, 1999

This Othello Serves in the Marine Corps
By Philip Brandes

In resetting "Othello" in the present-day Marine Corps, directory Scott Rabinowitz aims for heightened relevance in his staging for the Pasadena Shakespeare Company. In some intriguing ways, he succeeds in illuminating the text--Othello is foremost a soldier, rewarded and betrayed within a culture shaped by the unique mind-set of the military. Meticulous detail makes a good case for the Marine connection, from the emphasis on discipline to the unchained carousing of soldiers on leave.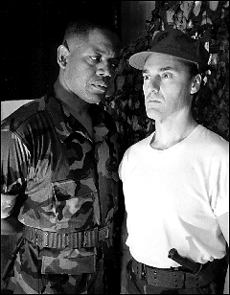 Othello
Photo: Jerry Neill
So the concept passes the first test of any nontraditional setting. It's not arbitrary. The next logical question, however, proves more problematic: Is the relevance to some textual aspects worth the inevitable clash between the modern context and Shakespeare's vocabulary and verse? Even with proper scansion (not always present in this large, uneven cast), mechanical-military movement and blocking are hard to reconcile with iambic pentameter. However, Rabinowitz does hedge his bets rather humorously with raucous music, at one point even setting iambic pentameter to rap cadences.

In the title role, imposing Billy Mayo evokes the Marine sensibility with conviction--a black officer who overcame prejudice with dignity and rose to the top of his profession. Rather than indulgently lording it over Desdemona (spunky Amy Raasch), he's quite the softy--there's a New Age squishiness in their relations that makes it harder to sell his blind, raging jealousy.

The Marine conceit gets taken too far at times--for example, the playing of "Taps" in the murder scene (though Mayo and Raasch do introduce a new twist on the killing). Several slapstick interludes (mostly at the expense of Joe Jordan's amusingly hapless Roderigo) seem to drift into "Gomer Pyle" territory.

Making the most of their supporting stage time are Kenneth R. Merckx Jr. as noble Cassio, and Louahn Lowe as the lusty Bianca. Though forceful and nefarious as the pivotal Iago, Loren Bass misses important opportunities for grounding his hatred of Othello in more than an unproven charge of sexual indiscretion--underlying issues of race and class are treated far too gingerly, especially for a production that shoots for topicality.

--PHILIP BRANDES

"Othello", Plaza Pasadena Mall, 300 East Colorado Blvd., Pasadena. Fridays, Saturdays, 8 p.m.; Sundays, 7 p.m. Ends April 4, $18. (626) 564-8564. Running time: 2 hours, 55 minutes.