What is being said about us?

Othello Review from Backstage West, March 18, 1999

OTHELLO
at the Pasadena Shakespeare Company
Reviewed by Hoyt Hilsman

Director Scott Rabinowitz skillfully guides this breezy and crisp Othello, set in the contemporary world of the U.S. military, and infuses it with a refreshing dose of humor. Billy Mayo, himself an ex-Marine, is a square and upright Othello, finding the balance between military bearing and human frailty, while Loren Bass portrays the darkly comic side of Iago without sacrificing any of the drama of the play.

Rabinowitz envisions not only a modern arena for the Moor's tale, but a uniquely American one.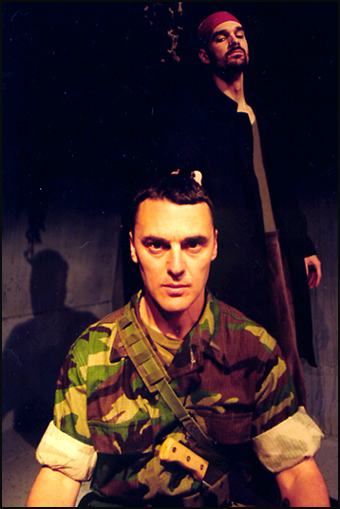 Othello
Photo: Jerry Neill
Military bases, war rooms, and officers' quarters all suggest a particularly American blend of machismo and innocence, where wars are waged by remote control and the true grit of the leaders is as much a matter of perception as reality. As the war rages around him, Othello's public and private lives converge in tragedy.

More than in most setting of the play, this is clearly a wold of men, where deception and jealousy nonetheless play even greater roles than ambition or greed. While Iago is clearly motivated by personal revenge, his glee in bringing down the powerful black general has strong hints of the racism that still echoes in the back corridors of American military life. And the women in the play, most notably Desdemona, skillfully played here Amy Raasch, are really only pawns in this very male and deadly sport of sexual jealousy.

The most overtly comic character is Roderigo, as played by an inspired and lanky Joe Jordan, who lopes around the stage, milking his humorous turns as Iago's foil. Stepping in as a replacement in the role of Cassio, director Rabinowitz is convincing, finding insouciance and charm in a generally thankless part. David Paul Needles is somewhat overwrought in the role of Desdemona's father, while Jerry Hanken and Peter Fitzkee are fine as the Duke of Venice and Montano. Louahn Lowe is both sexy and sharp as Bianca, and Gillian Bagwell shows strength and wisdom as Iago's wife. Other members of the strong ensemble cast include Morgan Brown, Jerry Neill, and Marcus Waters.

Set and lighting designer Aaron Francis deserves special praise for his sparse set, which conveys brilliantly the tone and mood of the military setting, using swatches of camouflage netting and strands of barbed wire. Sound design by Rabinowitz and April Bird also add to the light, modern tone of the piece. The simple, low-tech approach of the Pasadena Shakespeare Company adds to the power of the production.

The only fault in the production is the staging of the final scenes, which become static and heavy. It is not clear whether the director was unable or simply unwilling to sustain the tightrope tension of drama and comedy until the last beat of the play. Still, up until its last moments, this production is briskly and refreshingly untraditional.

"Othello" presented by and at the Pasadena Shakespeare Company, Suite 296, Plaza Pasadena Mall, 300 East Colorado Blvd., Pasadena. Feb. 26-Apr. 4. (626) 564-8564