What is being said about us?

Midsummer Review from the San Gabriel Valley News, Friday, May 7, 1999

A Simple 'Dream' in Pasadena
By Frances Baum Nicholson

Ok, I confess. Even this Shakespeare nut has favorite plays, and my guilty secret is a deep love for A Midsummer Night's Dream. It offers a combination of outrageous farce and mystical fantasy, a series of charming characters, Shakespeare's funniest clowns and an ending that leaves everyone satisfied. It offers no deep issues, no wrenching situations, just pure fun, and people have been laughing for 400 years.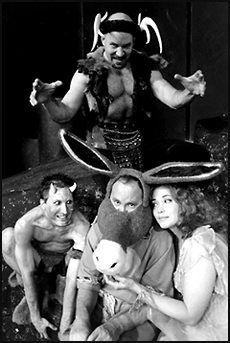 Midsummer (1999)
Photo: Jerry Neill

The production currently at Pasadena Shakespeare Company does not indulge in any of the more radical time or setting shifts the 20th century has offered the play. The actors do not hang from trapezes. The setting does not shift to the Caribbean, or pre-World War I Europe or some other exotic time or location.

Instead, director David Paul Needles has chosen to take the setting literally, and place it in Athens. This same literal feeling allows some fine performances but also leads several missed opportunities.

The story is simple. Hermia wants to marry Lysander. Her father wants her to marry Demetrius. Hermia's best friend, Helena, was once engaged to Demetrius and wants him back. On the eve of the wedding of the Duke of Athens, the four set out into the woods, Hermia and Lysander to run away, Demetrius to stop them, and Helena to bask in whatever attention Demetrius will throw her way in the process. What they, and several other folk wandering in the woods that night, don't take into account is the presence of the king and queen of fairies and their entourage. the results are, at the very least, magical.

Most striking in this production are the royal pair. Charles Currier and Leda Whyte double as both Theseus of Athens and his Amazon intended, and Oberon and Titania, rulers of the fairy kingdom. In doing so they create quite distinct characters, with fascinating overlaps, which help fuel the play.

On the other hand, the only other major fairy character, Puck, as played by Michael Hirsch, becomes too frenetic to be effective. In a move unfortunately emulated by others within the cast, he often mumbles his lines as well, with an effect in mind that obviously doesn't carry.

Also, as the first of the two couples, Michael Santorico and Jolene Bentley make an unconvincing Lysander and Hermia. They speak their lines well enough, but there's no sense of connection, much less the kind of fierce attraction, which would draw them to risk escape into wild woods or worse.

This is in contrast to Kevin Kindlin, who does offer up a kind of animal power as the brawny Demetrius, and Cara Murdoch Barker, who becomes increasingly charming as the much-wronged Helena.

Her timing in some of the more comic moments sets the entire tone for those portions of the play.

The "mechanicals," or peasants who gather to prepare a play for Theseus' nuptials, prove universally clever. Among the group, Anthony Liveri's turn as Flute, called upon to perform the female part in the play-within-a-play, proves particularly amusing.

Lary Ohlson's version of the egocentric Bottom fuels much of the comedy of the piece. He even handles the muffling of his voice created by costume designer Maria Smith's unusual donkey head with deceptive ease.

Taken as a whole, the Pasadena Shakespeare Company's Midsummer has more good to it than bad, but misses the mark of being among this company's most polished works.

As a play, it lends itself so easily to wild creativity, it seems unfortunate the fantasy was kept on such a comparatively ordinary, literal level. It is serviceable, but could show greater inspiration.