What is being said about us?

Midsummer Review from LA Weekly, Friday, May 7, 1999

A MIDSUMMER NIGHTíS DREAM
By Lovell Estell III

Director David Paul Needles and the Pasadena Shakespeare company serve up a modest but enjoyable production of the Bardís romantic fantasy. Opening-night jitters were in evidence, as some cast members initially chewed on their lines, but once these butterflies took flight, so did the ensemble ó no mean task in a show that runs slightly over three hours. Needles incorporates a hefty dose of physical comedy; though it works more often than not, there are times when itís egregiously overworked.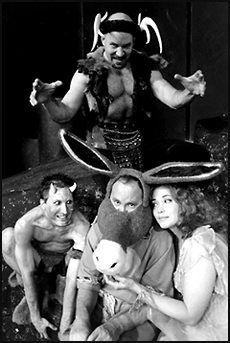 Midsummer (1999)
Photo: Jerry Neill

The young lovers at the heart of the tale perform admirably: Lysander (Michael Santorico), Hermia (Jolene Bentley), Helena (Cara Murdoch Barker) and Demetrius (Kevin Kindlin) bring a restrained sensuality to their roles. Ditto for Charles Currier, who does a fine turn as Oberon, and Leda Whyte as the fairy queen Titania. And of course thereís Puck, Oberonís mischief-making spellĖcaster, energetically and humorously rendered by Michael Hirsch. At first sight, the singular, raised concave set piece seems awfully staid ó until itís hit by stage light and transforms into a handy platform for the reverie ó which, in this rendition, is an ideal introduction to the Bardís work for young people. Pasadena Shakespeare Company, Plaza Pasadena Mall, Suite 296; Fri.-Sat., 8 p.m.; Sun., 3 p.m.; thru May 30. (626) 564-8564.