What is being said about us?

THE LIBERTINE Review from San Gabriel Valley, Friday, July 30, 1999

'The Libertine' a remarkable production
By Frances Baum Nicholson

The period of Charles II's reign in England was a truly feel-good one. The Puritan ways of Cromwell were gone, the traditionas of monarchy were restored, and the upper class took full, hedonistic advantage.

For the first time women were allowed on stage, and a great wealth of "Restoration Comedies" provided theatres with social and political satire, as well as titillating innuendo only possible when both genders are represented.

Steven Jeffrey's new play, "the Libertine" takes a look at this era from a slightly different angle than those classic comedies. Now receiving its West Coast premiere at the Pasadena Shakespeare Company, the play examines the darker side of the time from the vantage point of John Wilmot, second Earl of Rochester, a rather distasteful, but reasonably accurate historical figure.

this Rochester warns us from the start we will not like him. What sets him apart from the wits and wags of his day is his determination to go beyond, to be more satiric, more drunk, more outrageous, more anything than those around him.

In an era famous for its profligracy - half the current noble families of Britain are descended from mistresses of Charles II himself - Rochester tosses aside as ridiculous anything that does not bring personal, immediate satiation. the world exists only to be used, and his own existence is, at the very least, superfluous.

Except in the middle of the night, when the women who truly love him discover a different person. Which is the real man?

Jeffrey's play is it itself quite brilliant. Using the rich language of the period, he paints a portrait as colorful as it is startling. Even the crude notions that drip from Rochester's mind, and his pen, are given a richness, which keeps the audience fascinated throughout.

Peeling away the layers of the increasingly tormented man, he allows more questions than answers, and leaves the audience with more to chew over.

Kevin Kindlin makes an impressively convincing Rochester. We are not watching a play about this man, we are watching this man. From every well-chosen syllable of his daily conversation to the most tormented private moments, Kindlin's Rochester proves constantly genuine and absorbing.

As Rochester's most constant companions, Jeff Klein makes fine work of the somewhat more moderately cynical Earl of Dorset, while understudy Peter welkin provided, on the night I saw it, a tempering logic as renowned playwright George Etherege.

Ken Ferrigni vibrates with youthful exhuberance as the young man who falls into company with this hard-drinking trio. David Fruechting handles the difficult part of the king, whose temperament pulls him toward similarly outrageous ways, while his position insists on an emotional sobriety, with a kind of humorous formality that works well in the era's artificial society. Daniel Sapecky turns Rochester's personal servant into an interestingly detached onlooker to all this excess.

Yet, other than Kindlin's, it is the women's performances that endure. Leda Whyte shines as the Earl's gentle wife, wanting to be tender, yet often left in a terrible kind of loneliness.

It makes for attractive contrast with Cristina Anselmo's cold and distant portrait of the actress with whom Rochester falls disastrously in love. Melanie Ewbank offers up a nearly, attractively practical portrait of a professional lady of the evening, and Rachel Babcock competently picks up three other parts, most notably the stage manager of the theatrical company Rochester frequents.

For director Gillian Bagwell, this prodcution is quite obviously a labor of love. An attention to detail, whether it be of costume, of character, or of pacing becomes the hallmark of this production. She handles the seamiest bits with a particularly tricky combination of circumspection and straightforwardness. Christine Walters-Murphy gets particularly high marks for costuming, as does Maria Smith for the elaborate wigs.

"The Libertine" is wonderful play writing, and a remarkable production. It is, however, extremely strong, impressively adult material. As hawdy and as raw as the period in which it is set, it is not for those who find overt sexuality disturbing. Taking children would be foolhardy, to say the least. Yet, for anyone not off-put by its adult label, the play becomes a banquet of strong characters, fascinating historical tidbits and deeply emotional images which will live on days afterwards.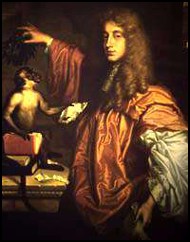 John Wilmot
The Second Earl of Rochester