What is being said about us?

THE LIBERTINE Review from Pasadena Weekly, Thursday, July 29, 1999

An Earl of Wisdom
By William Campbell

Two words for you: Kevin Kindlin.

Remember them. File them away for future reference. They'll come in handy when you hear about him again - and you will.

As the star of the Pasadena Shakespeare Company's presentation of the West Coast full-length premiere of Stephen Jeffreys' dark comedy "The Libertine," Kindlin is flat-out riveting - in manner, style, presence and presentation.

Seldom is an audience given the chance to see an actor define a role - Marlon Brando had his Stanley in Tennessee Williams' "Streetcar," Lee J. Cobb his Loman in Arthur Miller's "Salesman." Kindlin and director Gillian Bagwell give us that chance here.

Kindlin doesn't just play the role of the real-life John Wilmot, second Earl of Rochester (1647-1680), he invades it - inhabits it. From his brilliant handling of the prologue, where Jeffreys has Wilmot speak directly to the audience to set the stage for the scandals and sins preparing to unfold, to the final gut-wrenching moments of the play, Kindlin is subsumed fully into the part and turns out an awesome performance.

"The Libertine" follows the unfeeling and soul-spare Wilmot's exploits as a poet/lover/drunk/genius. Rowdy and randy as all hell - and with a band of equally rowdy and randy rakes and raconteurs of similar social position - Wilmot rampages through the playhouses, whorehouses and royal houses of Restoration-era London carving out scandals the likes of which make even the rowdy and randy royal courtiers of King Charles II turn a collective lighter shade of pale.

Standout performances include the versatile Jeff Klein in dual roles as Earl Charles Sackville and Harry Harris, baby-faced Ken Ferrigni as Billy Downs, sure-footed David Fruechting as King Charles II, poised Cristina Anselmo as Elizabeth Barry, energetic Melanie Ewbank as Jane, entrancing Leda Whyte as Elizabeth Malet, and the always enjoyable Daniel Sapecky as Tom Alcock, whose name generates a laugh every time it's spoken.

but as with all dark comedies, "The Libertine" is not just about laughter. Bearing witness to Wilmot's slow, tortured descent into despair and loneliness is neither fun nor a game.

But the production is far from tragic. In the careful and devoted hands of Bagwell and with the tremendous talents of its cast, the glorious Pasadena Shakespeare Company has crafted a prodcution of "The Libertine" that soars.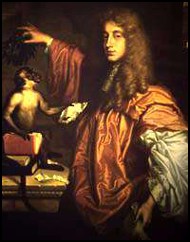 John Wilmot
The Second Earl of Rochester