---
Reviews: The Beggar's Opera
Mac Attack
Though some 270 years old, John Gay's "The Beggar's Opera" still packs a potent satirical punch at the Pasadena Shakespeare Company
By William Campbell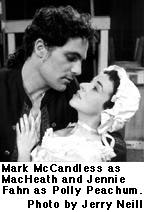 Long before Bobby "Oh the shark bites" Darin's great-great grandfather was even a gleam in his great-great-great granddaddy's eye, and ages before Bertolt Brecht and Kurt Weill coined their "Threepenny" thing-and let's not even get into McDonalds' moon-manic Mac Tonight ad campaign-there was John Gay and his scandalous social satire "The Beggar's Opera"-the source of it all-which premiered in London way back in 1728 and pushed wide open the theatrical envelope, to say the least.
Well, it's baaaaaaack and still pushing; proving itself to be as lasciviously good now as it ever was with the dynamic, racy and high-performance production directed by Dana Marley (with musical direction by Steve Hill) that is now playing at the Pasadena Shakespeare Company.
It is marvelous to see a production such as this just go for broke and succeed-not just succeed, though: triumph. From its beginning, with its "Stomp"-like mixture of drumming beats and rhythms, to its four-piece musical accompaniment (Michael Terrill, keyboard; Will Salmon, flutes, percussion; Andrea Sondreal, violin; Rachel Schiff, cello), on beyond to the masterful choreography of Gregory Scott Young and the powerhouse talents and voices of its actors, "The Beggar's Opera" literally is musical theater bursting with energy and imagination and creativity to spare. Indeed, this the premiere production of the Pasadena Shakespeare Company's 1998 season is clear indication of how well the company has grown and how quickly it has matured in such a short amount of time.
Was it really only back in the summer of 1995 that I sat on a folding chair and watched as Gillian Bagwell's fledgling group set some semi-stifling warehouse way south of Colorado Boulevard aglow with its production of Shakespeare's "Twelfth Night?" Well, with the level of talent, professionalism, musicality, confidence, passion for performance and love of theater that was exhibited on the night I was in attendance at "The Beggar's Opera," there is no doubt that those 2-1/2 years that have since passed have been time very well spent.
Making that evening even more magic was the level of self-assured fun that was had by the performers on stage. They were really enjoying themselves up there, and it couldn't help but be felt beyond the footlights. Mark McCandless as MacHeath flat out has enough charisma, charm and vocal power to supply a half-dozen lesser actors and fill a score larger theaters. There in the Plaza Pasadena, he holds nothing back, whether he's satirically winking toward the audience one moment, or wholeheartedly belting out a broadside ballad the next.
Of the strong and large ensemble cast: Jennie Fahn shines as Polly, as does the marvelously comical Michael Hirsch in dual roles as Filch and Wat Dreary; Dorothy Elias-Fahn displays her marvelous singing talents as Lucy Lockit, as does Michelle Smith, who brings a contemporary styling to Jenny Diver; David Paul Needles and Jane Macfie thrive in their respective roles as Mr. and Mrs. Peachum.
"The Beggar's Opera," an underworld soap populated with thieves and prostitutes and shady officials, all plotting for their own advantage, is broad-spectrum satire, poking fun at opera, class structure, love, morals, politics, marriage and the law. In it you have the affable rogue MacHeath who has married his rival's daughter, Polly Peachum. At first afraid that MacHeath is out to get his money, but then realizing that he can benefit from his death, Daddy Peachum, plots MacHeath's imprisonment and demise. But the crafty-and randy-hunk has tricks up his sleeve, until it all comes down to a trip to the noose hanging from Tyburn Tree. Never fear! When all seems lost for our Mac, a cast revolt saves the day and everybody's happy.
Director Marley has judiciously trimmed away all long-since obsolete political references of the day and the result is a trim, highly entertaining and entirely relevant show that speaks to us of universal things such as the nature of relationships and the advantages of money. And it does so not from an updated, modern-day telling of Gay's 18th-century smash, but from a production that embraces the essence of that time long ago. Zale Morris' marvelous costumes help a great deal.
Though some may fault me for premature adulation, I can tell you one thing I'm pretty sure about with the Pasadena Shakespeare Company's production of "The Beggar's Opera": Ladies and gentlemen, this one's got "Best of 1998" written all over it.
WHAT: John Gay's "The Beggar's Opera"
WHERE: Pasadena Shakespeare Company, Plaza Pasadena Mall, 2nd level, Suite 296, Euclid and Green Streets, Pasadena
WHEN: Fridays-Saturdays at 8 p.m., Sundays at 3 p.m. through March 22
COST: $17 ($14 for students, seniors)
INFO: 626/564-8564

---
Interviews - Archives - Book Store - Reviews - The Ink Well - Top of Page - Home
Copyright 1997 WDC. All rights reserved.
E-mail: frontrow@laonstage.com