Artistic Director Gillian Bagwell founded the Pasadena Shakespeare Company December 1994 with an invited resident company of actors. Within nine months, the company had produced its first season of three plays to enthusiastic praise from audiences and critics, presented more than twenty-five free readings of six Shakespeare plays at Barnes & Noble bookstores throughout the Los Angeles area, and conducted its first creative dramatics classes for children.

From 1996-2003, the PSC produced thirty-seven shows under the 99-Seat Plan of Actor's Equity Association, including eighteen of Shakespeare's plays and a variety of other works including The Beggar's Opera, You Can't Take it With You, Our Country's Good, She Stoops to Conquer, Stephen Jeffreys's The Libertine, Brendan Behan's The Hostage, and Shaw's Arms and the Man and Candida. The PSC received many outstanding reviews from publications including the L.A. Times, L.A. Weekly, Pasadena Star News, Pasadena Weekly, and Backstage West, and was featured in stories by CNN and the Wall Street Journal.

Many of the PSC's shows were named Pick of the Week or Critic's Choice, and its plaudits include ten Drama-Logue Awards, an L.A. Weekly nomination of The Beggar's Opera as Best Musical of 1998, an L.A. Weekly award for Best Actor for Loren Bass's portrayal of Iago in Othello, and the New Times and Pasadena Weekly's naming Our Country's Good as one of the best productions of 1997.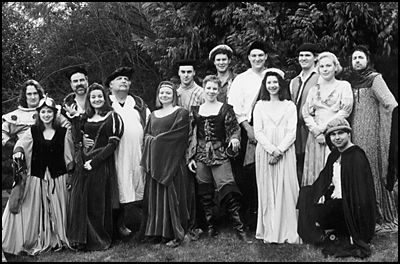 Throughout the company's existence, David Paul Needles, the PSC's associate artistic director and director of education, developed and taught classes in association with Kidspace Museum and various public and private schools in the Pasadena area.